Review: The Undying Legion: Crown & Key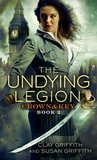 @clayandsusan
The Undying Legion
by
Clay Griffith
My rating:
3 of 5 stars
Demons, demi-gods, warring sorcerers and conspiracies abound in the second book of this series. Events turn darker as Simon and Kate decides to investigate suspicious murders. For those who have not read the first book, do not past go. This is not a standalone. Understanding of previous events will help to make this book easier to follow.
Against Nick's advice, this Victorian Scooby-Gang decide to figure out why women are being killed in key churches. More importantly, why are the dead rising? Malcolm the monster hunter struggles with his own demons as he is not in favour of the latest addition to this motley crew. The only good werewolf is a dead werewolf. It doesn't matter that said werewolf is a thirteen year old girl who doesn't want to change. Or that she's adorable and pitiful at the same time. When she changes, she is an uncontrollable beast bent on destruction. Of course, this is what helps the team of monster fighters when they need it most.
This story is plot driven and I really enjoyed it. It kept me guessing. The red herrings are cleverly done and the ending is a surprise. I like being surprised. Duo authors Griffith create a mystical world filled with intrigue, secrets and danger. Not knowing who is on the side of right is a problem. Then again, right is all a matter of perspective.
This story is well written with good character development. The reader learns more about each of these characters and how their pasts tie them together. There are still untold secrets which will keep a reader wanting more. The ending of this story leaves another slick hook, pulling the reader deeper into this series. As soon as I finished this book, I wanted to read the next one.
What I really liked about this book is how visually pleasing it is. It's not the cover which I'm talking about. The scenes in these books are well written and easy to see. The book does play like a movie in my mind. The characters are easy to visualize. The places are memorable. Even the scene where Kate is about to be painted is crystal clear. This is impressive and I can see this series being turned into a movie trilogy. I'd watch it. Recommended for urban fantasy lovers who enjoy many events going on at the same time to keep a reader guessing.
*provided by NetGalley
View all my reviews