Review: Lord & Master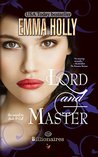 Lord & Master
by
Emma Holly
My rating:
3 of 5 stars
Another glimpse into the life of triad Damien, Mia and Jake, sign me up! In Lord & Master, if readers are expecting a smoking hawt kinky contemporary threesome, it's time to reset your expectations. This book completely threw me. This story takes roleplay to another level. As in, the story goes from contemporary to historical kinky romance. Not a fan of this twist.
I avoid historical romances because for the most part, they no longer interest me. In this one, it feels as if 80% of the book is in the historical setting. One can't tell if Mia, Damien and Jake are actually playing a role or if they are really feeling what is going on in their roleplaying. Ms. Holly does a nice job of setting the roleplaying up. Mia wants to test run a week at their erotic club with a historical setting. Members want to enjoy being servants or aristocrats. Jake and Mia convince Damien to take a week off and beta test out the bugs before they offer it to members.
Now if this was just kinky BDSM roleplay, it would have been fine. Ms. Holly entwines relationship issues between the triad in this roleplaying. These deeper issues are to be resolved during the week. The thing is, what is reality and what is acting? It is a bit difficult for the reader to figure out. It could be done this way on purpose because even Mia and Damien are experiencing difficulty between reality and fantasy. This kind of writing is not good for me. I am not interested in mixing fantasy and reality in this manner for a fiction book. It's like a dream with in dream from the movie, Inception. Not something I was expecting.
Ms. Holly does a decent job of switching from one reality to another. The transitions still left me a little dazed and confused. The conflicts in this story are all resolved even if it isn't to my satisfaction. It is done in a realistic manner which makes me angry because I really wanted vindication for Damien. I wanted his family to see the truth of the matter but this will never happen. This makes me mad because the abuse Damien suffered is just not something I can let go. It's a violent ripping away of innocence and persecuting a victim which just leaves me frothing with rage. Fortunately for this sexy triad, they are able to make peace with Damien's past and they are all the better for it. From an erotic perspective, I loved the book. From the way the book is written, I mixed. Recommended for kink readers who want their contemporary and historical erotica at the same time.
View all my reviews