Bring Out Your Kink - Writer's Choice!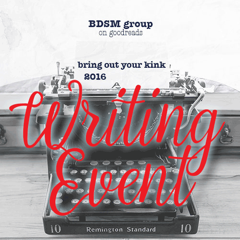 Thanks to all who submitted a photo prompt.

We now have forty-two prompts.

Writers, we have 42 luscious prompts in

☞☞☞THIS FOLDER☜☜☜.

They want to be OWNED!

Are you that owner?

Go to Writer Sign up Form and select a prompt.

Remember, all members are welcome to select a prompt and provide a submission.

This is open to all published and non-published writers.
The BDSM mods are eagerly looking forward to all the writing submissions based on the awesome prompts provided.

Bring out your Kink!
Benefits to joining in the writing fun
✓
Chance to try writing skills for members who haven't written before.
✓
Chance for newly published authors to get their name out in the BDSM group.
✓
Chance for established authors to have a little fun.
✓
All writers are welcome.
✓
All stories submitted will be posted in the BDSM group only for reading.
✓
Any publications of the story will be at the writer's discretion.
TIMELINE Reminders
June 21, 2016 - July 15, 2016 Dear Pervert Letters open to Writer Selection
July 16, 2016 - September

16, 2016 - Writers write like mad!
September 16, 2016 or earlier - Writers send in their stories
September 17, 2016 - October 1 - Formatting for Goodreads
October 2, 2016 - November 18, 2016 - Post Stories - every Tuesday and Friday
December 1 - 25, 2016 - Pick the story you want to hear on BDSM Bedtime Stories Season Five