Review: One Fell Sweep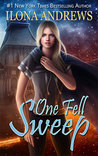 Riveting symphony of words with a romantic melody @ilona_andrews #mustread #buynow
One Fell Sweep
by
Ilona Andrews
My rating:
5 of 5 stars
Third in the Innkeeper Series, One Fell Sweep blows me away. I eagerly followed along this serial story with anticipation on Fridays when they were posted. Each little piece was hoarded like a gem in my treasure chest. I breathed fire like a dragon when a new gem showed up and someone disturbed me from admiring and savouring it. As delicious and pleasurable as the free serial was, the consolidated story is even better. How can that be? Because a few things were added in which make this story shine brilliantly.
This story is filled with determination as Dina once again rises to the challenge of being the hostess of the most-est. Dina is just barely recovering from her last onslaught of guests. She now has a nice little savings and her inn is flush with a bit of magic. To top it off, Sean is home. He is intense and different than when he left, but this older, more experienced Sean is someone who fits in Dina's world. When she least expects it, she receives a distress call from her sister, Maud, in a godforsaken hell hole planet. Alarmed, she searches for a way to get to her sister and help. Of course, the tug of war for Dina begins as the only one who can get her on the planet, is the Vampire Arland. Obviously, Sean is not going to let her go alone.
What starts out as a story saving Dina's sister and possible a growing romance between Sean and Dina quickly transforms into a Hail Mary quest. I don't know how Ilona Andrews does it, but it is fabulous. I love heroic quests when done right. And they do it right every single time. This time, the quest takes out more from Dina than anyone can imagine. The trials and tribulations she and her guests she's protecting go through are mind boggling. This story is like an opera in words. There are several acts and each one beautifully crescendos into a feverish peak and then gently slows down into a lull. Sometimes there are variations in a merry staccato pace. Seriously, the scenes with the muckrats were hilarious. Ilona Andrews draws forth every emotion in this symphony of words. Anger, love, yearning, hope, sorrow, fury, happiness, joy and heartbreak each have their solo in this masterpiece.
This third book in the series is even better than the first two. I loved the first two books and thought nothing could top it. I stand corrected. This one moved me more. I loved the characters. I loved Dina's constant perseverance. Sean's unyielding love is truly remarkable. I don't know whether to classify this as a grand romance or a paranormal. Which ever genre this ends up in, it is simply marvelous. This book is recommended to everyone. It is a must read.
*I received an advanced copy
View all my reviews