Review: The Sweetest Burn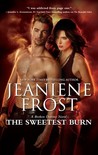 The Sweetest Burn
by
Jeaniene Frost
My rating:
4 of 5 stars
The road to hell is paved with good intentions. The second book in the Broken Destinies series can be read as a standalone. It is recommended to read the first book to understand how this all begins. Full disclosure, I did not read the first book and I was still fine catching up with Ms. Frost's concise recaps.
This is a book filled with conflict and moral lessons. I liked it because the character is constantly in turmoil trying to decide what to do. Ivy is the last descendant of David. As the last Descendant, she is the one who can wield three artifacts which can bring about the destruction of Demons. If it was easy, there would be no story. Ms. Frost throws in so many obstacles, I am impressed with her cruelty and ruthlessness. Because these hardships is a kindness to Ivy as it brings about her character development. As Ivy bemoans, what doesn't kill you will only make you stronger.
From what I can tell, Ivy is an idealistic young woman who wants to save everyone. She is neither experienced nor jaded like Adrian or Zach. This is an important point, because it brings about the question of why it is the youth who make the changes. Is it because they don't know enough and are dumb enough to think they can do it? Because they believe it can be done with a bit of hope, they actually succeed? Whilst an older jaded person will know it is not possible and they will not try. Is this a self fulfilling prophecy for both the young/dumb and the old/wiser? Is it really wiser when a person gives up hope? What I liked about this book in my old age is not the characters - it is what each character represented and how idealists become pragmatist with enough experience.
Ivy is a character with determination and grit. She is like Buffy, before Buffy died, went to heaven and was pulled back down to earth. Ivy still believes that being given the answers and taking the easy way is the most expedited way to save the world. She misses a very important point that Zach is trying to teach her. Zach is like Yoda to her Luke. And I felt bad for Zach. It is clear he has been given parameters which he must abide. His methods and reasons are rather transparent for me yet unfathomable by Ivy. However, I think about if I was still in my early twenties, I would probably respond the same way as Ivy. Ivy sputters in self righteous indignation, certain that Zach is unhelpful. Ms. Frost's interplay between Zach and Ivy, Zach and Adrian is poignant and harsh. It reminds me of all my Chinese teachers, they educate through tough love.
The plot to this story is a fascinating interpretation of biblical characters, events and artifacts. I usually shy away from Christian reinterpretations because they usually cross a blasphemous line I have difficulty ignoring due to my upbringing. However, there are a few authors who write it in a way that is thought provoking and doesn't generate a subconscious response of outrage at heretic postulations. Ms. Frost is one of them. She is respectful of a religion and brings about a paranormal story with rich imagery, characters and a plausible unseen world. She leaves openings for spin-offs as well as hooks a reader into this dark, nearly apocalyptic world. The set up for betrayal and fighting one's destiny is well done. She cleverly places Ivy and Adrian in a prisoner's dilemma with their heritage and foretold destiny. A key point Ms. Frost does emphasis is choice. I especially liked how choice, even when a person does not feel the choices are good, is still a choice. This is a hard lesson to learn and understand for many. This is the kind of book which generates discussions cross generations in a book club. I love it. This book is recommended to those who enjoy anti-heroes, the harsh realities of sacrifice all tempered with love, loyalty and hope. Can't wait to read the next book in this series.
*ARC provided by HQN via Book Unleashed